............. ............ . .............. ................
Fun:
Q: Teacher: What is the shortest month?
A: Student: May, it only has three letters.
............. ............ . .............. ................

My Skills

Language skills:
When we learn a language, there are four skills that we need for complete communication. When we learn our native language, we usually learn to listen first, then to speak, then to read, and finally to write. These are called the four "language skills".

English Language has 4 main skills and each skill has other sub-skills and skill activities. The main skills are all basic and very important. They are called the Macro skills. Macro skills refer to the primary, key, main, and largest skill set relative to a particular context. It is commonly referred to in English language. The four macro skills are reading, listening, writing, and speaking. You have to perfect them in order to use your English language properly. Listening and speaking are brain input skills but reading and writing are brain output skills. Of course, there other skills such as pronunciation, grammar, vocabulary, and spelling all play a role in effective English communication.
Receptive VS productive:

Languages are generally taught and assessed in terms of the 'four skills': listening, speaking, reading, and writing. Listening and reading are known as 'receptive' skills while speaking and writing are known as 'productive' skills. Listening to and reading content in the language you are learning is a great way to develop your vocabulary and comprehension. Developing your speaking skills will involve gaining fluency in spoken interactions with others, as well as practicing your pronunciation. To practice pronunciation try reading aloud or repeating after a recorded text, trying to reproduce the pronunciation and intonation of the original. As in your first language, your writing will be improved by becoming a critical reader - try to think actively about how texts are structured and what kinds of phrases or vocabulary are used for different purposes (e.g. introducing a topic, describing, comparing and contrasting, writing conclusions).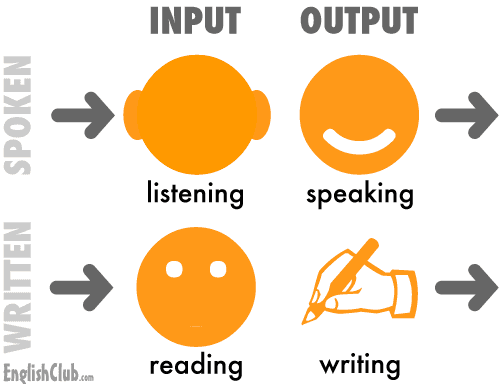 Pre / During / Post:

Each basic skill is like a tree which has branches called sub-skills. In dealing with each skill there are 3 steps to do, (Pre, During and Post), for example:

(Pre-listening, During listening, and Post listening ).

The same is for all the other skills. This is explained in each skill page.

The main/Macro skills include:

View Resources:

1-Integrating language skills through dictogloss procedure.

1-Watch Video / Rule 1 for Speaking Real English.
2-Watch Video / Rules 2 and 3 for Speaking Real English.
3-Watch Video / Rule 4 for Speaking Real English.
4-Watch Video / Rule 5 for speaking Real English.
5-Watch Video / Rule 6 for Speaking Real English.
6-Watch Video / Rule 7 For Speaking Real English.

Click here to go to:
(Teaching ) , ( Learning ) , ( Methods) , ( Grammar ) , Back