"The sufferings of this present time are not worth comparing with the glory that is to be revealed to us."
—Romans 8:18

Q: Why did the teacher wear sunglasses?
A: Because his class was so bright!

Notice:
Use the other language selector on my home page above to go through my whole site using any native language you speak,
then use the video above to see and listen to the same teaching topic in text below.

اختاراي لغة من لغات العالم / اللغة التى تريد تصفح موقعى باستخدامها . استخدم المؤشر

الذى فى الاعلى
Next,use the world site selector on my home page above to go to the search engine site or the social media site you like.

My YouTube Channel: Click: :( Mr. / Girgis H. H).

البحث في موقع الأنبا تكلا هيمانوت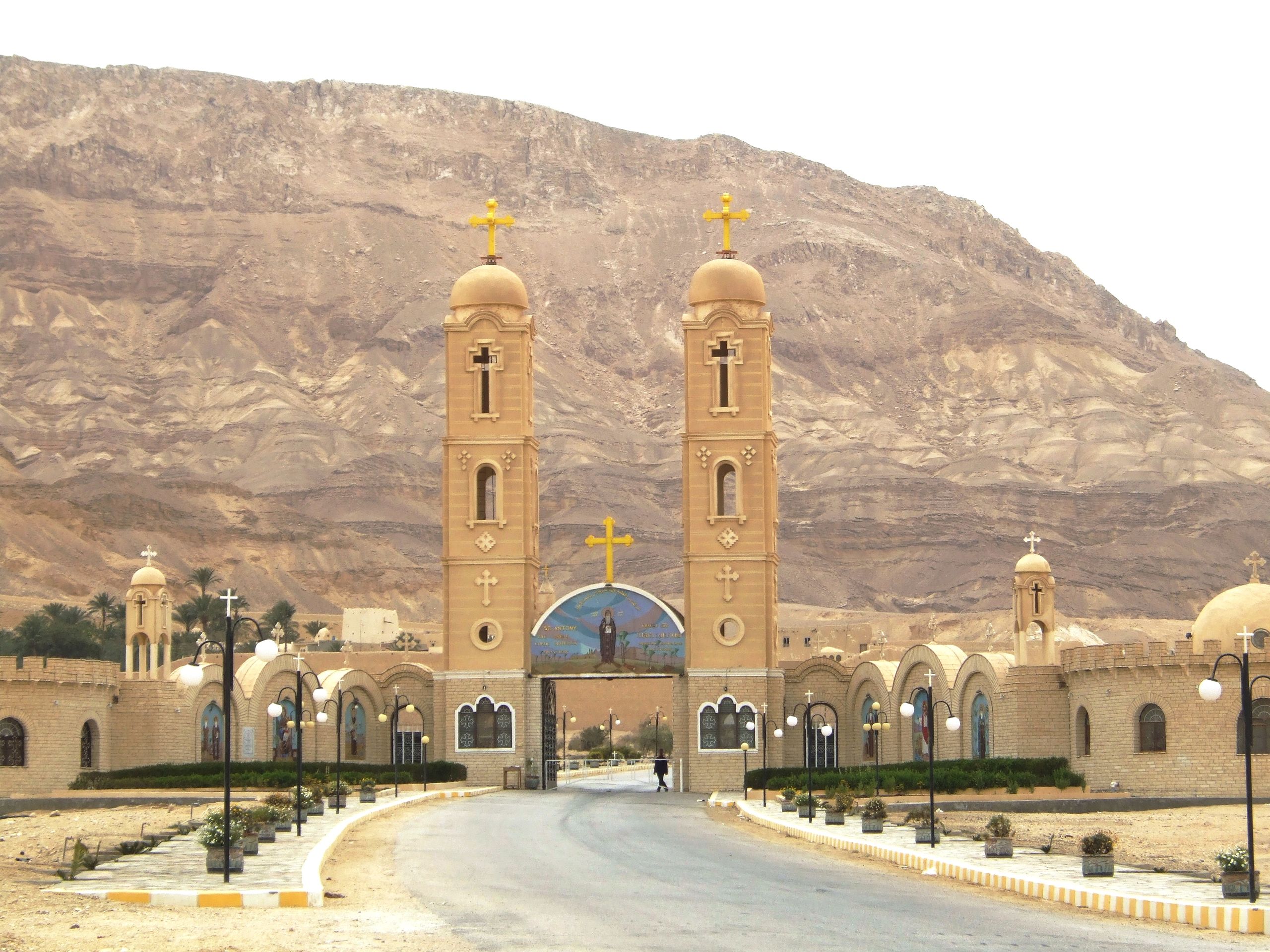 أنا / جرجس حنا هارون ابن شقيق
أخبرك عن سيرة
/ أبونا فانوس
ولد أبونا فانوس على اسم بولس
هارون عبده الدفاشي في أبريل

1929 بقرية دفش بسمالوط

التحق بدير الأنبا بولا بالصحراء

الشرقية غربي البحر الأحمر بمصر
مبتدئًا من عام 1944 ، وأدى

1951 رُسم كاهنًا ، ثم رُسم

. اشتهر ابونا فانوس بالتقوى

بسبب مكانته الروحية. كان معروفًا
باستبصاره وموهبته في صلوات

الشفاء. كان محبوبًا من زملائه

، وكذلك جميع زوار دير الأنبا بولا

لتواضعه وروح الدعابة والخدمة

الروحية. كان يُرى دائمًا ويده

اليمنى مغطاة بجورب ؛ أن السبب
هو أن يده بعثت ضوءًا ساطعًا.
قام الرب وملاكه ميخائيل بالعديد

من المعجزات باستخدام يدي أبونا

فانوس.
شقيقته الراحلة كانت

تسمى مريم. كانت راهبة في

منزلهم بدفش. كانت أيضًا تقية

وقديسة. اشتهرت بصلواتها

كان أخوه الراحل حنا هارون عبده

أيضًا رجل صلوات روحية

واستقامة ، وكان جميع أفراد هذه
العائلة ولا يزالون معروفين بروح

الصلاة والبركات الساخنة. ولأبونا

جرجس حنا هارون واخواته

السيدة يوستينا حنا هارون والسيدة

ماري حنا هارون. يسكنون في بيت
الصلاة والبركات والرؤى المقدسة

بجانب الأنوار المقدسة في بيت

أبونا فانوس بدفش/ سملوط والمنيا

بين الحين والآخر ، نرى أنوارًا
ونشتم رائحة كريهة متصاعدة في

منزلنا. يفتح أفراد عائلة أبونا

فانوس منزلهم لأي شخص يرغب

في الفوز بمباركة من راهب

اهل دفش يحبون ابونا فانوس

كثيرا. بعد صراع طويل مع المرض

تنيح أبونا (الأب) فانوس من دير

الأنبا بولا في الصحراء الشرقية

. وكان الآلاف من الأقباط

المسيحيين يتجمعون في الدير

لتقديم تحياتهم الأخيرة إلى الراهب

المحبوب وحضور مراسم الجنازة

في تمام الساعة 1:00 ظهرًا يوم

التي سجلت فيلم ابونا فانوس.

وأخبرت السيدة سوسنة الحضور

عن عمود النور المقدس الذي

انطلق من كنيسة دفاش وحلّق في

السماء حيث هبط على منزل أبونا

يمكنك زيارة هذا المنزل بعد

الاتصال بى انا جرجس حنا

هارون أو راسلني عبر البريد

الإلكتروني من قبل الزيارة

وبالتأكيد سارحب بكم هناك. كل

الناس هناك متواضعون وبسيطون
يمكنك النقر فوق الارتباط هنا أو

أعلاه للذهاب إلى صفحة الاتصال
I am Mr. Girgis Hanna Haroun,

the nephew of The great monk,

Abouna Fanous.

Dear visitor,
I tell you about the biography of

my uncle. Abouna Fanous was

born in the name of Boulis

Haroun Abdoh Al-Dafashi in

April, 1929 at the village of

Dafash, Samalout in Minya,

(Upper Egypt), Egypt.
He joined the monastery of Al-
Anba Paula in the Eastern

desert, west of the Red Sea,

Egypt, as a novice in 1944, and

took his vows in April 1947. In

1951, he was ordained a priest,

then he was ordained as a

Komos.
Aouna Fanous gained a pious

and spiritual reputation for his

spiritual nature; he was known

for his clairvoyance and his gift
of healing, curing and

acceptable prayers.
He never condemned anyone.

Always he answered both

yougers and elders with 'yes".
He was beloved by his fellow

monks and spiritual leaders, as

well as of all the visitors to Anba
Paula monastery for his

humbleness, humor, and spiritual
service.
He was always seen with his

right hand covered with a

stocking or a glove; the story

goes that it was because his

hand was seen emitting a
brilliant light.
Many miracles were made by the
lord and His Angel Mikhaeil

using the hands of Abouna

Fanous. The Lord made many

miracles using him in the USA,

Australia and Germany though

he didn't travel to any of these

countries. It was the same that

happened in most of the

governorates of Egypt.
His late sister was called Mariam.
She was a nun in our village

house at Dafash. She was also

pious and a saint. She was

famous for her spiritual prayers
for herself and others in her own
holy room at our house at

Dafash. It is still found for visitors
to come, see and pray at.
His late brother ( My father)

Hanna Haroun Abdoh was also a
man of spiritual prayers and

straightforwardness. He was

famous for reading the bible and

never did anything without

consulting the Lord during his

own prayers.
He was a man of pray. I learnt

the spirit of praying from him. All

members of this family were and

still known for the hot spirit of

praying and blessings.
Anbouna Fanous has one

nephews and nieces: I am his

nephew, Mr. Girgis Hanna

Haroun, Mrs. Youstina Hanna

Haroun was his first niece and

Mrs. Mary Hanna Haroun was
his second niece.
All of us live in the house of

prayers, blessings and holy

visions beside the holy lights at

the house of Abouna Fanous at
Dafash, Samlout, Menia, (Upper
Egypt), Egypt.
From time to time, we see lights


and smell rising holy smells or



perfumes in our house. These



things are seen and smelt by



many people at Dafash.
We, the members of Abouna

Fanous's family open our house

for any one in Egypt or abroad
that wants to win a blessing of

the 1 monks and 1 nun (Abouna
Fanous and his sister Mariam)
at Dafash. The people of Dafash
like Abouna Fanous very much.
After a long struggle with illness,

my uncle, Abouna (Father)

Fanous of Al- Anba Paula

Monastery in the Red Sea

Eastern Desert moved into the

heaven in 1926 .
Father Fanous Al-Anba Bola


departed to celestial glories,


after a long illness, at the


intensive care in Farid Habib


hospital.
The monk Botros from Anba Bola


monastery said on his Facebook


page: «The eagle of wild eagles


great Father Fanous Al-Ana


Bola went far to heaven, and the


funeral prayer on his


immaculate body will be at the


Great Saint Paul's monastery


on Tuesday 1:00 am after the


Holy Mass prayers ».
Thousands of the Christian Copts
had been converging on the

monastery to pay their last

respects to the beloved monk

and attend the funeral service to

be held at 1:00pm, on Tuesday

19 April, 1916.
I myself saw him in the sky after

40 days of his moving into the

Heaven. I presented this miracle
on my YouTube channel(Mr.

Girgis Hanna Haroun(. You can

go there to enjoy this project. He
was wearing his holy heavenly
crown, looking at me , smiling to
me with joy and happiness for

nearly 6 minutes.
It was something great that

made me very happy and excited
crying to him to do intercession
for me and my family beside all

christians in front of the lord

Jesus Christ.
Remember the CTV Channel

registered film of Abouna

Fanous. One of our Dafash

women, Mrs Sausanna told the
audience about the holy light

column that she saw and

witnessed moving from above

Dafash church and flew slowly

in the sky, then it landed on
(Our house(, the house of

Abouna Fanous at Dafash.
You can visit that house of

Abouna Fanous at Dafash village
to have the blessings of the 2

monks. after calling me, Girgis

Hanna Haroun or emailing me

before to receive you on the way.
You can be blessed with the

places of prayings, visions, lights
and monks that visit the house.
You can listen to the holy stories
that you can hear about Abouna

Fanous, his late nun, sister

Mariam and his late pious brother
Hanna Haroun.
All people at Dafash are modest,
simple, kind, spiritual and proud

of their saint, Abouna Fanous.

They feel happy about receiving

Abouna Fanous's visitors .
If possible, donate to Abouna

Fanous house at Dafash. It

needs some building works to

complete. The God witnesses

that.
The dear and beloved monk, Abouna Makarius Al-Anba Paula



whose photo is on the right, is the apostle of Abouna Fanous.
He was the lover of my uncle, Abouna Fanous. He served him for

many years during health and sickness . He was very faithful to him

and he is still our beloved monk. He always remembers us with

Abouna Fanous the moment we see or hear him

He visited us at Dafash many times with the film photographers and

the director to make the registered films of Abouna Fanous. Those

ones that are broadcasted on : ( CTV) channel and ( Aghaby)

channel. He won the love of Dafash people. He is our beloved monk.

We are always in touch with him. He brought us the belongings of

Abouna Fanous that included his head covers, underwear clothing,

galabayas, pictures, candles and holy oil.
We offer these things to any visitors in Egypt or abroad to be
blessed with, then we take them back again in the same way of

Abouna Abd Al-Masseih's scarf with our friend, Mokhtar.

Thanks a lot.