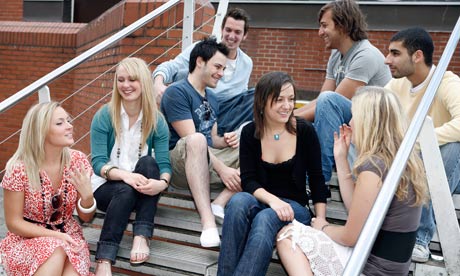 Humor:
Q: Why did the teacher wear sunglasses?
A: Because his class was so bright!
............ . ............ . .............. . ............
............ . ............ . .............. . ...........


For the Undergraduate
My dear guest,
This page is called " Grammar Lectures" page. It includes a lot of interesting lectures in grammar. Let's read it to learn in order to know, in order not to recite or just memorize without understanding or applicability. Memorization supplies you with a short term knowledge but applicability supplies you with a long term knowledge. Grammar structures are tools that contribute in building proper communication, not just rules to learn by heart. Grammar helps you to listen to, speak, read and write an academic English language properly.
Grammar is the system of a language. People sometimes describe grammar as the "rules" of a language; but in fact no language has rules. If we use the word "rules", we suggest that somebody created the rules first and then spoke the language, like a new game. But languages did not start like that. Languages started by people making sounds which evolved into words, phrases and sentences. No commonly-spoken language is fixed. All languages change over time. What we call "grammar" is simply a reflection of a language at a particular time. Originally, the term grammar, grammatica, referred to the art of writing, as compared to rhetoric, rettorica, the art of speaking.
As used today by many teachers and learners, grammar is loosely understood to be a set of rules that govern language, primarily its morphology and syntax. But morphology and syntax are only two components of grammar. Communicative language teaching has brought a renewed emphasis on the role that semantics plays in the definition of language. Communicative language teaching is fundamentally concerned with 'making meaning' in the language, whether by interpreting someone else's message, expressing one's own, or negotiating when meaning is unclear.
I like to think of language learning from a
top-down approach
. You look at the big picture first, and then as you go, you figure out the details. This is similar in many ways to the strategy of guessing based on past experience, also known as
inductive reasoning
, and it's awesome. A language is a set of valid sentences. What makes a sentence valid? You can break validity down into two things: syntax and semantics.
Syntax VS Semantics:

1-Syntax is the grammar.
It describes the way to construct a correct sentence.
It answers the question: how do I construct a valid sentence? .
For example, "This water is triangular" is syntactically correct.
2-Semantics relates to the meaning.
It describes the meaning of the sentence.
It answers the questions: is this sentence valid?
If so, what does the sentence mean?
For example, this water is triangular does not mean anything, though the grammar is OK
.


How?
The term syntax refers to grammatical structure whereas the term semantics refers to the meaning of the vocabulary symbols arranged with that structure.
Grammatical (syntactically valid) does not imply sensible (semantically valid), however. For example, the grammatical sentence "cows flow supremely" is grammatically ok (subject verb adverb) in English, but makes no sense. Similarly, in a programming language, your grammar (syntax rules) may allow ID EQUALS ID but the language may only allow the sentence if the text matched for ID does not represent a type name (a semantic rule).
Learn key concepts and strategies in grammar and style to help enhance your writing and confidently respond to the demand of high levels of literacy in the 21st century. How great to teach and learn grammar through the lexical approach. It enhances meaning, feeling and practice. How nice for me as a teacher to elicit the rule from the learners themselves after their drill and communication practice for the real situations that contain the rule we want them to learn and master!
Click on each to study grammar / Syntax:
1-Nouns.

2 )Verbs.
3-Adjectives
4-Adverbs
5- Articles.
6)-Question.
7-Phrasal verbs.
8- E. Prepositions.
9-) Active & Passive.

11- The Punctuation marks.
12-) Direct & Indirect Speech.
13--The Communicative grammar
Idioms :
A) A B C D
B) E F G H
C) I J K l
D) M N O P
E) Q R S T
F) U V W X Y Z
........... ............ . ............. . .......

External links Resources:
1-Idioms
2-Grammar Rules
3-Phrasal Verbs.
4-Grammar Lessons.
5-Grammar Exercises
6-Grammar resources
7-list of all English Tenses.
8-Intermediate Exercises
9-Stress in English pronunciation.
10-Go to Cambridge Dictionary online.
11-Beginner & Elementary Exercises.
12-To learn about all Idioms, click here
13-To learn about phrasal verbs, Click here.
14-Differences in American and British English grammar.
15- Pair counting to improve grammar and spoken fluency.