"He will wipe away every tear

from their eyes, and death shall

be no
more, neither shall there

be mourning, nor crying, nor pain
anymore,
for the former things

Teacher: I hope I didn't see you looking at Maria's answers.
Student: I sure hope you didn't, either!
Dear visitor,
Use the language selector above to go through my whole site using any native language you speak, then you can enjoy my YouTube channel.
اختاراي لغة من لغات العالم / اللغة التى تريد تصفح موقعى باستخدامها . استخدم المؤشر

الذى فى الاعلى
I register a video presentation in my YouTube channel for each page of my site.
Next,use the other world site selector above to go to the search engine site or the social media site you like.
Talented / Gifted

and

Mr. / Girgis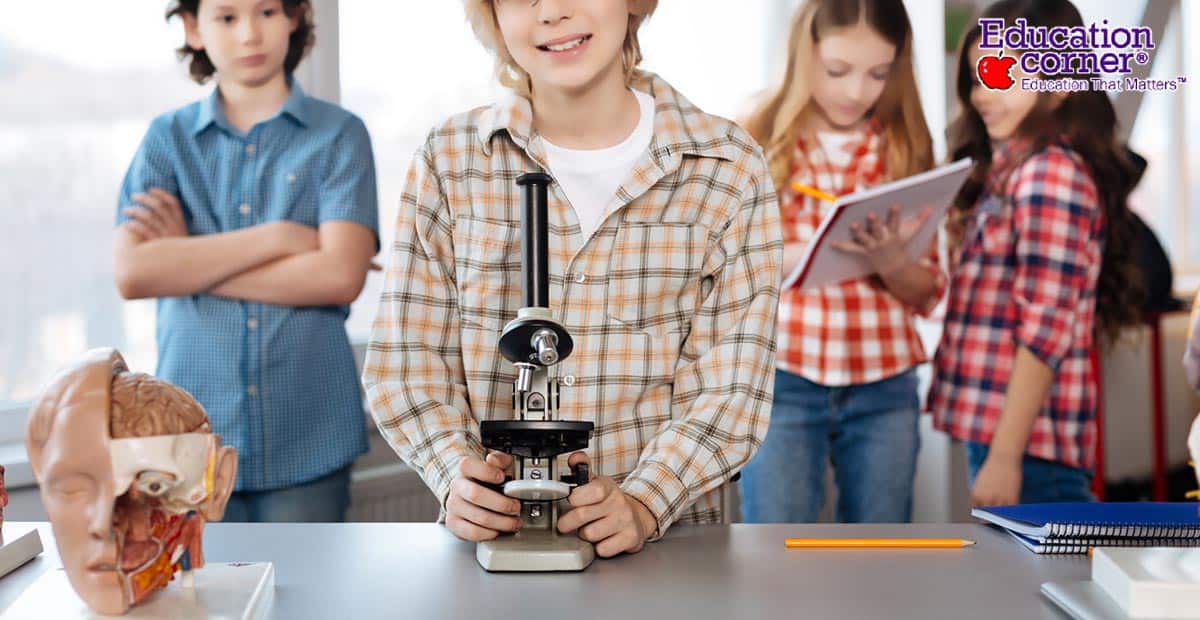 Students with gifts and talents perform—or have

the capability to perform—at higher levels

compared to others of the same age, experience,

and environment in one or more domains.

They require modification(s) to their educational

experience(s) to learn and realize their potential.
Talented children" means those persons between

the ages of four and twenty-one whose abilities,

talents, and potential for accomplishment are so

exceptional or developmentally advanced that they

require special provisions to meet their
educational

learners:
1-They are communicators.
2-They are curious and always ask a lot of

questions.
3-They ask for more and more knowledge.
4-They learn Vocabulary, and grammar structure

quickly.
5-They have creative ideas.
6-They are cognitively advanced
7- They are loved, self educators and innovators..
8-They are self-evaluators.
9-They are sensitive to their environment.
10-They like to do more tests , assignments,

homework and tests.
11-They achieve projects at a short time.
12-They like to use technology.
13- They like to observe, experience and solve

problems.
14-They like to do analysis, synthesis and

evaluation.
15-They are talkative, obedient, friendly,
respectful and cooperative.

Challenges of Talented Students:
Many gifted students try to reach an impossible goal


– perfection.
Because of the pressures of rigorous schoolwork or


extracurricular activities, many gifted and talented



students have little free time.
Gifted children are often very socially mature for



their age,
but this can cause them to have problems



interacting with their peers.
Talented and gifted students may have trouble



focusing on
schoolwork that doesn't interest them



or they don't naturally
excel at.
Organization skills



can also be a problem with gifted students
as many



are abstract thinkers.
To Support Gifted Students in Your

Classroom
1-Learn how gifted students think. ...

2-Created tiered assignments for

students. ...

3-Include a variety of levels in your

classroom library.

4-Utilize their talents and interests. ...

5-Explore real-word application.
Some methods to support gifted

1-Promote creative and critical thinking.

2-Require problem solving.

3-Involve group interaction.

4-Have variable levels of pacing.

5-Allow for debriefing of the process.

6-Involve open-endlessness.

7-Allow for freedom of choice.

8-Involve higher order thinking processes.
Strategies and activities to use with

gifted students:
1-Design your lessons with Bloom's

Taxonomy
2-Assign independent projects. ...

3-Ask intellectually stimulating

questions. ...

4-Find mentors. ...

5-Organize cluster groups.


Who is a slow learner?
A child can be described as a slow learner if his or her thinking skills develop at a notably slower rate than that of his or her peers.

The child will carry on through the exact same developmental stages as his or her peers but at a comparatively slow rate. Also, the child typically has below-average intelligence.

The problem with such an approach is that not all students can adapt to a rigid and fast-paced style of learning. Due to this, a gap forms between their true ability and their performance level and such children
are then dubbed slow learners.
To put misconceptions to rest, slow learning is not a learning disability. It is used to describe a student with the ability to acquire all academic skills at a rate below than that of the average student.No student is weak or bright by birth; it's the way we feed the

knowledge and how they imbibe it which makes them so.




A slow learner needs more time, more repetition and more resources from teachers to be successful. These students do not have intellectual disability, but it takes them longer to understand and

grasp concepts.
A slow learner needs more time, more repetition and moreresources from teachers to be successful.These students do not have intellectual disability, but it takes them longer to understand and grasp concepts.


What are the challenges faced by slow learners?
Regular classroom learning focuses on the acquisition of new skills based on previously learnt concepts. When the majority of the students are learning at a faster pace, a slow learner tends to be left behind.
This creates a knowledge gap in basic concepts and skills and reduced comprehension ability across a wide spectrum of academic areas.
A slow learning child not only faces educational challenges but social and personal challenges as well.
As a result of their inability to match the learning pace of their peers, they might consider themselves lesser than others. This will affect their self-confidence and self-esteem.



They find it difficult to bond with children of their age group and are often excluded from extracurricular activities, sports, and other activities.
This aggravates the problem as they become prone to anxiety and negative self-image.
Methods of teaching slow learners:
1-Compensatory Teaching.

2-Remedial Teaching. ...

3-Instructional Strategies for Slow

Learners.

4-Develop Lessons that Incorporate

Students' Interests, Needs, and

Experiences. ...

5-Frequently Vary Your Instructional

Technique.
6-Incorporate Individualized Learning
Materials.

7-Incorporate Audio and Visual
Materials.

Most of the slow learners are found to

be very slow in reading.
They neglect

self-reading. Reading is one of the

If the student is given some extra time
for understanding the keywords then

he will improve the reading skill.
Programs for Slow Learners: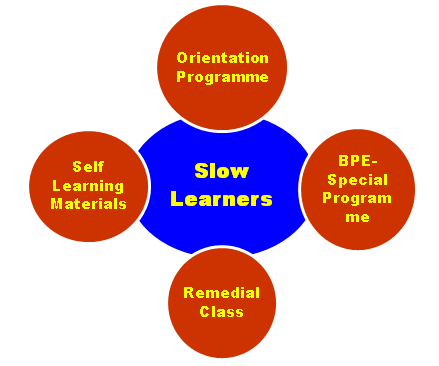 How to help a slow learner
There are numerous ways to help a child who is a

slow learner.

Here are a few methods that are known to help slow

learners:
Praise and reward:

Motivation works wonders for slow learners.

To help them continue learning, it is important to acknowledge even the smallest victory and offer rewards for each milestone.
Set realistic expectations and

smaller targets:
As a parent and an educator, it is essential to

understand what is achievable for the child and set

targets accordingly.
Encourage peer tutoring:
This is one of the most effective strategies for slow

learners.Parents and teachers should encourage slow
learners to study in groups. The more a child interacts
with others of his/her age, the more confident he/she

will feel.
Encourage multiple intelligence:
If the child shows interest in any co-curricular activity,

it is essential to support them. This boosts their

confidence and they start feeling socially accepted.
Encourage interaction and oral

communication:
Slow learners should be encouraged to voice their

thoughts.Parents should ask their children about their
day at school,have discussions on TV shows, sports

and music.