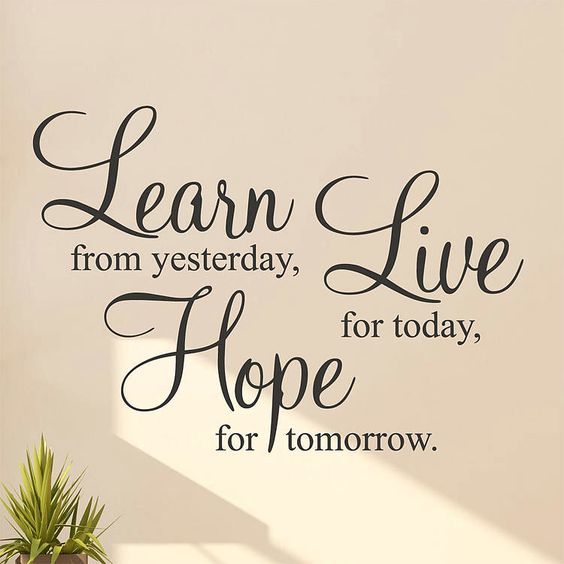 "This poor man cried out, and the LORD heard him, and saved him out of all his troubles ."Psalm 34:
Humor:
Teacher: I wish you'd pay a little attention, David.
David: I'm paying as little as I can, teacher.
Use the video above to see and listen to the same teaching topic in text below.


Next,use the other world site selector above to go to the search engine site or the social media site you like.
اختاراي لغة من لغات العالم / اللغة التى تريد تصفح موقعى باستخدامها . استخدم المؤشر

الذى فى الاعلى
I register a video presentation in my YouTube channel for each page of my site.
Collaboration and
Teamwork
is one of the:



(Collaboration and Teamwork) is one of the

21st century skills
Being an effective collaborator means not only being

able to work with others, but also being able to learn

from, share with, and express oneself to them. Most

importantly, an openness to collaboration and sharing

creative ideas means that children communicate with

each other more in class.
As competition for university places and jobs rises,

universities and employers are putting increased emphasis
on the importance of creativity and collaboration. This is

why, at the British Council, we also emphasise these skills

in our English classes.
Although we often associate creativity with people who

work in the arts, our rapidly changing culture means all

areas of life require creativity. Having a creative team

means that problems are solved in unique and efficient

ways.

It is also essential to collaborate effectively. It is now normal
for us to be able to communicate immediately with people

around the world, and because of this we may work and

study with people with very diverse backgrounds.

Luckily, it's not a matter of being born with or without these

skills. It is possible to nurture and teach creativity and the

ability to collaborate effectively, and that's what the British

Council does.
Collaboration and
Teamwork
The modern workplace is becoming increasingly global.

Technology has afforded businesses the capability of

building global teams, producing a more educated, skilled,
and engaged workforce. As technology continues to

advance, the need for a highly effective collaborative

workforce will too.

Active learning encourages co-operative

learning. Students who work in collaborative

groups appear more satisfied with their classes.
The teacher divides his learners into groups

according to their interests levels, habits and

desires. Each group must consist of 3 or 7

members.

Each member has a role to do. As a result, the
group must have a leader, a presenter, an

organizer,a dictator,a writer, an evaluator and a timer.



Collaborative Learning

When a group of two or more students work

together to complete an activity, discuss a

question, or collaborate on a task, we call it

collaborative learning.

The intended consequence of accomplishing

tasks together is to help students learn the

complexities of solving a problem and promote

deeper learning through doing.
Group work not only helps students learn the

course material better; it also provides

opportunities to develop additional skills.
While working in groups, students need to

harness group members' strengths, address

group learning needs, manage time, divide a

large project into small tasks, cooperate,

negotiate, resolve conflicts, and reach

consensus. These are useful skills in

collaborative work spaces and future careers.
The benefits
Collaboration: An Essential Skill for 21st



Century Learners
While some of us may naturally be better at collaborating
than others, collaboration, as a skill, is something that

must be learned. At Selwyn, students learn collaboration

through the cultivation of the following skill sets.

A person who is creative tends to have more enthusiasm
and be more energised. Increased creativity can also

lower stress and anxiety, vital when students are going

through exams.

Working with others makes people happier, improves

their reflection and opens their eyes to new skills. Being

an effective collaborator means not only being able to

work with others, but also being able to learn from,

share with, and express oneself to them.
Most importantly, an openness to collaboration and

sharing creative ideas means that children communicate

with each other more in class. This gives them more

opportunity to practise their English in a communicative

way, which is how they will need to use it in the real

world.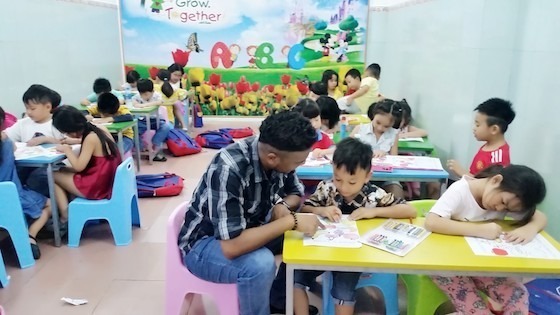 How you put students into groups

They are put into groups through:
1-Teacher-Assigned Groups.
2-Students Choose Groups.
3--Randomized Group Work.
4-Planned grouping.
5-Grouped according to same skill level.
6-Turn your row and talk to the person next to

you.
7-Grouped according to interest.
8-Alphabetical rotation system.
9- Contact list.

Role of Group Work
When the teacher announces that an

assignment is going to be done as group work,

there is usually a collective groan. Group

collaboration is frustrating, unequal, and often

lacks direction—all negatives for achieving

students, and indifference for the others.
So, then why assign collaborative work?
Because group work has true merit:
Group work allows the members to develop
better listening and speaking skills, in

addition to learning to be diplomatic in

conversation.
Groups can truly achieve more than an

individual can on his/her own. Discussing

and sharing bring a depth of knowledge that
most members would not likely achieve

individually.
Collaboration helps you see your strengths

and weaknesses. Enhanced self-awareness
benefits everyone.
Tips for helping your child develop collaborative skills
To foster creativity, encourage curiosity about new things,

especially learning about other cultures. Being exposed to

how others view the world allows a child to make more

mental links and spark new ideas.
Positively acknowledge creative ideas that children have

developed themselves and reward their effort when they

spend time on creative pursuits.

To encourage collaboration, get children to help a sibling

with their English homework or set up a study group with

students of a similar age. Children can learn to collaborate

by negotiating with a friend about whose turn it is to play

with a toy, or discussing household chores to complete.

Help children to see the benefit of group diversity, by

welcoming diversity of genders, ethnicities, mother
tongues and academic proficiency. This also develops

their empathy, which leads to more successful

collaboration.

And finally, lead by example. The best way that parents
can support their child's development is by being creative

and collaborative too. Don't just tell them to do it, show

them! You could put aside a weekend afternoon for an art

session with your child, or spend time working as a family

on a project.
How group work should work:
Shared responsibility but assignments based

on abilities—While the group does share the
responsibilities of accomplishing the work,
assigning members duties based on
strengths helps the project to run more

smoothly.
Encouraging open-mindedness—Everyone

comes into the group with differing attitudes

and beliefs. The diversity of opinions should
produce a deeper understanding of the

subject than if it is accomplished alone.

Learning to appreciate other viewpoints is a

healthy goal.
Differing academic goals—Each member

enters the group with different academic

goals. Some always strive for high grades,

while others are content to pass. Learning to
work through this conflict is positive for future
roles.
Navigating through decisions—Since the

decisions must be made as a group, it

requires discussion and compromise.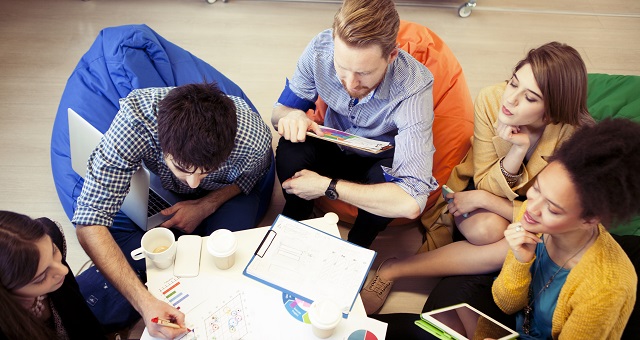 The disadvantages :
The workload is unequal, every decision

requires more time, participation is sporadic,

creativity is difficult, and it is easy for

members to avoid doing any of the work.
Since group work has benefits that carry over
to future careers and relationships, teachers
are wise to continue using them for the

proper assignments. Following are specific

considerations for when to use collaborative

work.
Students see through group work that is really
just busy work, so communicate clearly the

academic and social objectives to be

accomplished. Make sure that they tie into

class content well.

The assignment should be challenging

enough to arouse interest among the

students.

Keep the number of students to 4-5 as that is

where the diverse perspectives seem to work

best. Randomly assigning students to groups
keeps friend groups from working together.

Vary the composition of the groups by

sometimes using pairs, four students, etc.

Clearly state the task in detail, with no

confusion on what the final product should

look like.

Set interaction expectations for the group

members.

Be sure at the end of the collaboration to

remind them of the connection to the

coursework.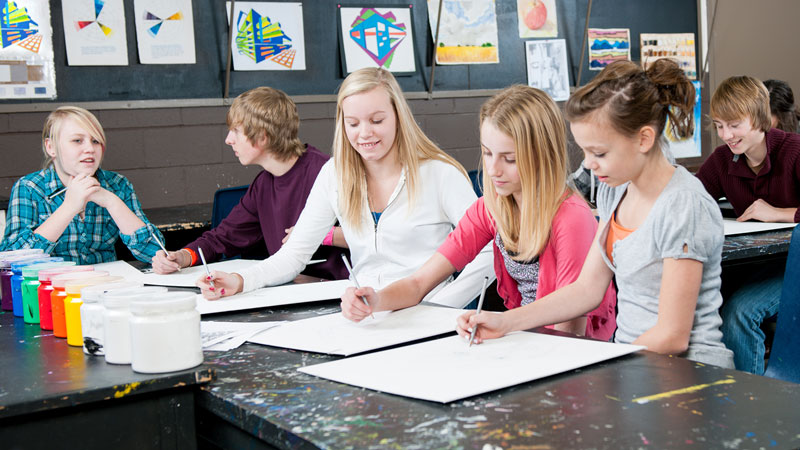 How group work goes on in class
1-Group "A" can use the round robin in the

sense that they answer the first part of the

question in 10 seconds then they give the

flying paper to group "B" to complete

answering the second part in 10 seconds and

so do group "C" and group "D".
2-If the exercises include 4 exercises, group
"A" can answer the first, group "B" can answer
exercise B , group "C" can answer exercise C

and group "D" can answer exercise "D" , all at

the same limited time. The 4 answers can be

exchanged among the 4 group in order to be

evaluated by different groups by exchange.
3- Group "A" can do a paragraph at the same

time, group "B" can do a project for the same

topic in the form of a practical drawing or a

design. Group "C" can answer a question while
group "D" can act its scene.
4-Group "A" can do a project and its members

can be interviewed by group "B" as a kind of

learners' self evaluation. The same is for group
c and group "D".

Various names have been given to this form
of teaching, and there are some distinctions

among these: cooperative learning,

collaborative learning, collective learning,

learning communities, peer teaching, peer

learning, reciprocal learning, team learning,

study circles, study groups, and work groups.

There are three general types of group work:

1-Informal learning groups,

2-Formal learning groups,

3-Study teams .
Benefits of group work

Effective group work is carefully structured to
achieve specific learning outcomes: learning
outcomes and student expectations must be
clearly formulated, directions must be well

written, and instructor support must be

available throughout the task. Subsequently,
it may take more planning time to effectively

design a group work task than it does to

lecture.
In other words, it's counter-productive
to assign group work just because it's easier
to do that than give a lecture, or because you
won't have to grade as much. Group work
shouldn't be a shortcut for instructors. Keep
in mind that the effort is worthwhile!

Collaboration pools skills, knowledge, and creativity

increasing innovation and the success of a project.

Collaboration always increases workplace happiness,

morale, as well as builds community — all of which

enhances engagement and, therefore, productivity.
The 21st century workplace is a collaborative one, which

means its workforce must have the skills to collaborate

effectively and to respond to challenges with confidence,

creativity, and thoughtful action.
Cultivating collaborative, inclusive, and culturally

intelligent 21st-century leaders who leverage the collective

expertise of the diverse communities they build is

foundational to a Selwyn education, which is why Selwyn

students learn collaboration skills throughout their

educational journey.


In-Class Group Work
Informal activities
There are a few less formalized (and

therefore quick) activities that support

collaborative learning. Try grouping students

into buzz groups, dyads (for Think-Pair-
Share), circle of voices, rotating trios,

snowball groups/pyramids, jigsaw, or
fishbowl.
Problem-based tasks

One clear task for students is to find a

solution to a specific problem that can be

solved in a number of ways. The problem

should relate directly to the material you're

covering and, as much as possible, have a

correlation to real-world problems or tasks.

For example, students in a marketing class

can be asked to come up with a product pitch
targeting a specific demographic.
Case studies
Like problem-based tasks, case studies are

based on real-world problems.But rather than

asking students to produce a tangible product,
students discuss the issue at hand, find a

number of possible solutions, list the merits of

each, and outline their favorite solution.

UNL's Center for Ethics has a robust list of
case studies for teaching moral reasoning

and ethical decision making, for example.
Create their own quizzes
Encourage review by assigning groups the

task of writing quiz questions based on specific
material. To write the quiz, students need to

review what they've read about, pick the main

ideas, and consider how they fit together.
Divide the material among groups and have

each group quiz the others. This gives

students a chance to show what they know,

and introducing a little competition will

encourage students to give the task their
best effort.





Challenges Related to Group Work
Because group work requires a special set of

skills and often requires students to negotiate

personality differences and different work

styles, groups or individuals within the group

may challenge the task or ask to be

reassigned.
While it's important that the learning goals

related to the task are achieved, it's also

important for students to learn to work

effectively with one another—even in instances
where there's a personality difference.

It may be a simple case of students not having
negotiation skills, or not being good at

developing a plan that accurately accounts for
how much time a given task will take.

Rather than stepping in and restructuring

groups, take a step back and assess what

particular skill can help the group function

more effectively. Then provide the resources

students need to acquire that skill.