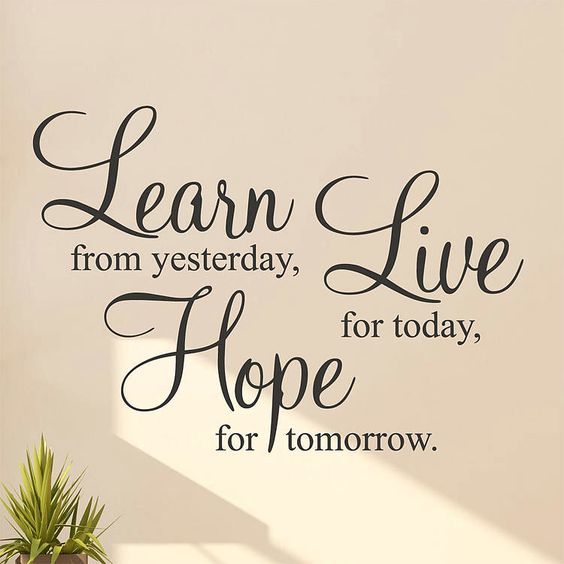 "He himself bore our sins" in his body on the cross, so that we might die to sins and live for righteousness; "by his wounds you have been healed." ~ 1 Peter 2:24

Dear visitor,
Sing to God, sing in praise of his name ,extol him who rides on the clouds; rejoice before him — his name is the L

ord

. A father to the fatherless, a defender of widows,
is God in his holy dwelling.
Teacher: I hope I didn't see you looking at Maria's answers.
Student: I sure hope you didn't, either!
Dear visitor,
Use the language selector above to go through my whole site using any native language you speak,

then you can enjoy my YouTube channel.
اختاراي لغة من لغات العالم / اللغة التى تريد تصفح موقعى باستخدامها . استخدم المؤشر

الذى فى الاعلى
I register a video presentation in my YouTube channel for each page of my site.
Next,use the other world site selector above to go to the search engine site or the social media site you like.


My Project
A Researching Study
in
Media Literacy Curriculum
Mr. / Girgis

Media Literacy
Curriculum
1-Vision.
2-Mission.
3-Aims.
4-Resources and material.
5-Methods of teaching,
6-Course content (19 lessons).
7-Teaching activities.
8-Assessment and Evaluation.
9-Learning outcomes.
10-Feedback.
New Education?
Wow !!!!
Information Literacy includes the following media:
1-Traditional Alphabetic Literacy.
2-Library Literacy.
3-Cultural Literacy.
4-Visual Literacy.
5-Network Literacy.
6-Computer Literacy.
7-Media Literacy.
Building a Media Literate World

Over the last decade, we have seen media literacy education move into the cultural conversation. Calls for media literacy education reverberate in classrooms everywhere, at education conferences, in policy meetings, and in the local and national news. We have seen astounding growth in practice, research, community-based efforts, and policy. To witness how the media literacy community has grown in number and in force is truly amazing.

However, despite the obvious progress, we find ourselves still struggling to enact media literacy education on a national and global level. While our grassroots efforts are impactful, we are still a long way from a systemic change in education, a change that prioritizes the importance of media literacy skill-building across discipline and age groups.

The most important question of all:
how do we ensure media literacy education is an essential part of our world? How do we as a community level up and make change?

For some, this will look like fine-tuning your teaching practice, for others, it might be sharing your latest research or learning about policy efforts in your state. Each one of us has an important role to play as educators, scholars, and advocates. It is time we come together to discuss and strategize how to scale our efforts and move forward to make media literacy education a priority for all.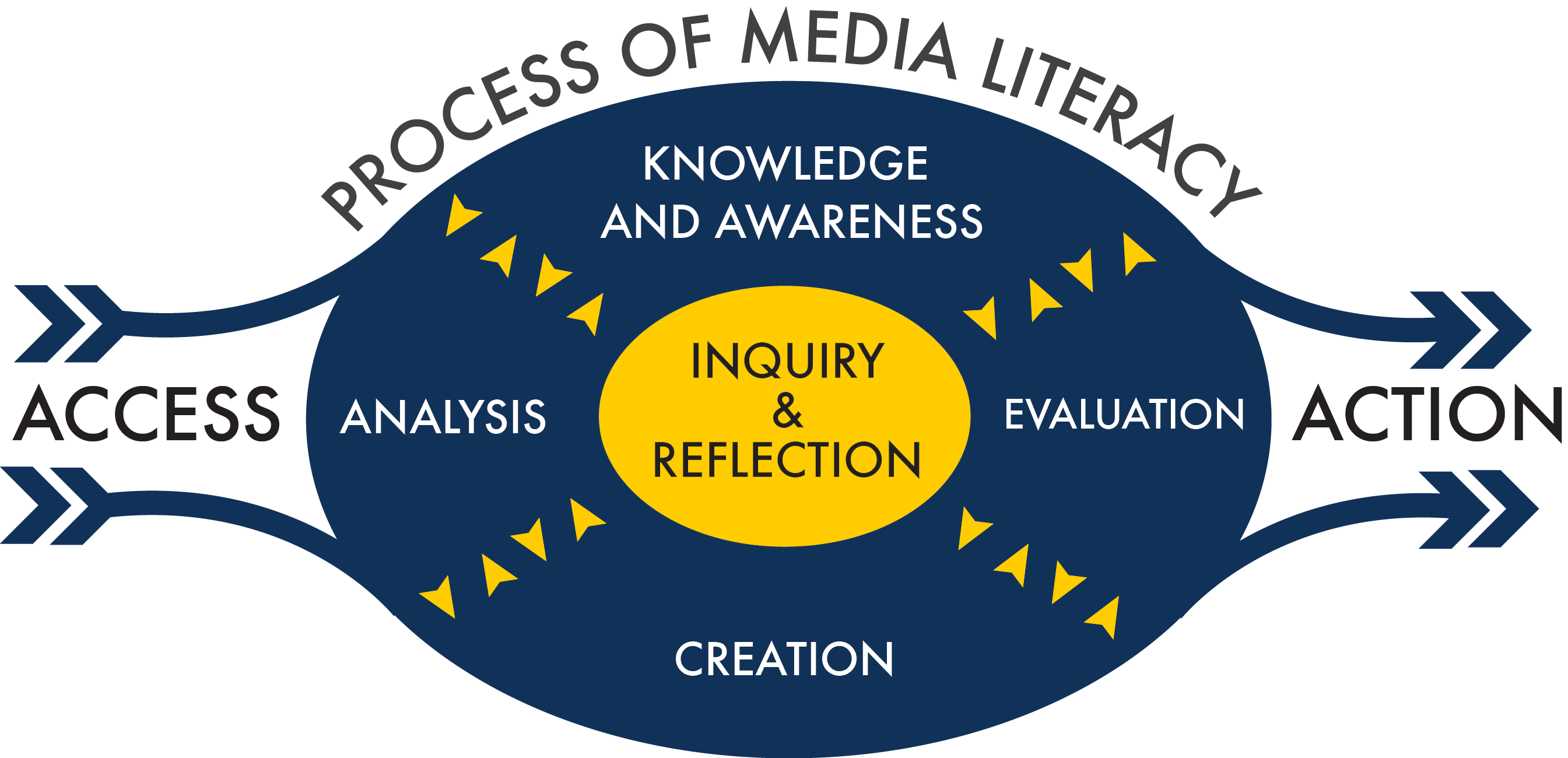 Media Literacy Curriculum
Media in all forms conveys information purposefully constructed from a specific perspective (bias) that stems from individual experience and context. Commercial companies introduce online programs and use online advertisements to enable the audience know about their products and buy them. This will enable the commercial companies to achieve money profits and fame.

These companies use means of media to achieve these commercial purposes. They use the TV advertisement and programs, Radio audio advertisements, newspapers news texts, articles and pictures, graphics, magazines stories and projects, online social media news texts or scripts like Facebook, Twitter, Instgram and What's App. to advertise their products to earn much money.
Some of these commercial companies are good. They use right audio and visual text, scripts, transcripts actual situations in the street. They are true, honest, clear and believable. They are not trickers or fraud. You can rely on them to follow them safely. People (old and young) rush to buy their products after a short time of access, analysis, evaluation, creation, then acting.

They create media and communicate with Mass when they access to Facebook or twitter to help citizens be conscious and aware of of fake commercial media films of companies.
Other commercial companies use the same technique and strategy to advertise their products, but they are fake, not true or honest as they use the same technology to advertise their product or investing projects as if they were advertising for good good products or believable means of investments.

The fact is that their products or projects or means of investments are fake, false, inefficient, not practical, unworthy for its value, false and they trick the people to buy their products or share them their fake projects.

Their aim is the consumer's money and never mind the truthfulness or good service for their clients' money. They want us to buy their products or follow their commercial project to have our money dishonestly.
This is a great problem. How can we protect our younger against this fake commercial media. There must me some education in this field to help our younger to avoid commercial cheating, fake, tricks and disputes or loss of money.
Here, Media literacy education is the solution. Our younger must be commercially educated. They must learn this new method of media teaching. After learning media Literacy education, and when our younger see, read or watch any commercial advertisements, short film programs or any means of investment or an article or a text in a news paper or a magazine, they will not be tricked by such commercial companies.
What will they do? They will access to that advertising short movie, film or advertisement, whatever the method is, they will start the process of analysis, evaluation to such script or text. Then, they create something new to add to such script or shared investing project or service advertisement to change it from being a bad, incredible and unreliable one into a good, credible and reliable one.

They reflect themselves through communication expressing their opinions and new exploration and inspire others. Now,They can buy the product, deal with that article, share in that program or project, invest with such company or bank and encourage watching such advertising short videos products.
Here, the client or learner feels safe, not tricked. He didn't lose his money. He didn't share in fake investments. He didn't fall a victim for fake commercial companies
This science is called Media Literacy Education. Media literacy's "inquiry process" transforms teaching and frees the teacher to learn along with students -- becoming a "guide on the side" rather than a "sage on the stage.Meets the needs of students to be wise consumers of media, managers of information and responsible producers of their ideas using the powerful multimedia tools of a global media culture.

It engages students. . . bringing the world of media into the classroom connects learning with "real life" and validates their media culture as a rich environment for learning."This science will teach him to access, analyze, evaluate, create and act.
He will ask himself and answer himself the following questions: Who created this advertisement or message? Why did they make it? Who is the message for? What techniques did they use to make their message credible? What details were left out, and why? How did the message make you feel?

Or in other words:
Who is conveying this message?
What incentive might they have to convey information from this perspective?
What language and media (e.g., text, audio, video, graphics) are they using to describe this message?
What audience is this message crafted for?

Really, it is new education.
Strategies for Exploring Authenticity in Media

Messages:
Project: 1
I followed your recommendations, (That are of The professors of The National Association For Media Literacy Association, NAMLE) with my private school learners effectively and successfully. As a senior supervisor of English at high schools in Egypt,I held professional development workshops and webinars and lectured my teachers about Media Literacy Education.
I used my computer, data-show and short video films that contained (Advertisements, Stories, News, scripts, texts, Information) to present the (Media Literacy education lessons) which I prepared and planned before.

The subject was new for my teachers, supervisors and learners as they used to teach their lessons through lecturing or dictating and the learners were as passive listeners or just containers ready to be filled with just information without any participation from the side of the learners (Teacher-based Learning method). I talked about media literacy education and how it needs learners to access, analyze, evaluate, create, reflect and act.

According to NAMLE recommendation, I took my teachers, senior teachers and learners to our local TV station to practice the theoretical teaching I presented before. There, our learners could communicate with the people in charge of the media. They asked, answered and communicated using their critical thinking skills. They asked about everything. I saw real brainstorming and self-exploration.

Our learners used accessing, analysis, synthesis, evaluation, creation mixed with their imagination and acting. It took the shape of interview, then it changed into a webinar. Our learners saw a (Talk Show) program practically. At the end of the program, they communicated with me in groups, about the interviewer, content, the message, the aim, their opinion, their own addition and their self-reflection.
Then, in groups, they were asked to communicate acting the same program roles using their added creation and imagination. It was a wonderful and exciting view. Learners created their own media in groups, with the addition of their recommendations according to their different views.
They succeeded. Their explored creative additions won our admiration. They were praised and greeted with applauds and cheering. It was the teaching of observation out of a real experience, followed by analysis, evaluation, creation, reflection and acting. We could see the individual differences of our learners.
Fun, joy, curiosity, self expression, self esteem, self-confidence, scientific dreams excitement, enthusiasm and future aspirations were seen in the learners' eyes, talks and feedback.

We came back and did a fruitful feedback. The feedback included a hot discussion at schools.
All people were happy as they learnt how to learn perfectly, effectively, practically and correctly. They asked for more and more
.
A wonderful report with our recommendations to repeat the (experience as part of the curriculum) was written and offered to the authorities who were very happy about the learners' soul of thinking, pairing and sharing.
I recommended this method of teaching to be included in the education curriculum, starting from the next year.
Project: 2
This encouraged me do another project. I typed this article of (NAMLE) about (Meia Literacy Education). I used modern technology. I uploaded the article to my international personal education website: (www.bchmsg.yolasite.com) to be as an online resource of knowledge to all my visitors, teachers, supervisors, inspectors, learners and education policy makers in my country and all over the world.

My education site has a language selector box at the top of my Site Homepage to facilitate dealing with my site content . All teachers and learners in my country and all over the world can access to my site page using the language they select.
Project 3:

My Future teaching strategy plan:
( Media Literacy Education must be included in the
curriculum )
I will introduce ideas and best practices educators can use to inspire creative, young storytellers. This includes a deep dive into different types of media - from e-books to augmented reality - and a look at real-world success stories from inside and outside of the classroom.

This session will help educators understand the important role media creation plays and explore how educators are using media to engage their youngest learners in the content creation process.

My teachers learn how to support your students' safety and privacy online so they can get started making media. Understand what online safety and privacy looks like as both a media consumer and media producer. This professional learning series is for anyone who works with young children at home, in a center, or in a school-based learning setting.
Media literacy isn't just one skill. It's a collection of skills, including critical thinking, information literacy, technology literacy, and a variety of other 21st Century skills. Essentially, you're teaching students how to be critical — but critical within reason.
By the time you're done teaching media literacy, your students should be able to identify harmful fake news and propaganda on sight. When they can, they'll be much safer from the dangers of an ever-evolving Internet that's become a spawning ground of misinformation. So how can you actually teach your students this complex concept?
The Curriculum
1-Media Literacy Vision:

Media Literacy Education vision is having learners
that can critically analyze what they hear, see, hear
and see and explore its truthfulness , liability and

commercial purpose.
2-Media Literacy Mission:

Enabling learners to access, analyze, evaluate,
create, reflect and act using all forms of

communication and collaboration.
3-Media Literacy Aims:
By the end of the course, learners become able to:
1-Explore fake things and give attitudes.
2-Distinguishing between good and fake

advertisements
3-Interact with real situations.
4-Use collaboration , communication and give

opinions.
5-Relate oral words to actual actions.

6-Value their natural, social and cultural

environments.
7-Connecting students to the community and engages them
in the design of collaborative solutions to existing regional
problems.
8-The main goal is to leverage the talents of our students to drive

positive social change, and to build sustainable public-facing

(Fake and reliable magazines, advertisements, news,
texts, stories, posters, chats and rumors) of :
1- Facebook, Instgram, Twitter, Yahoo, TV

Advertisement and You Tube advertising programs
to critically identify what they read in a book, see in

daily life ,watch advertisements through TV channels,
radio stations or face on the internet sites.
2-E-mail, TV commentators and Radio broadcasters.
3-Create media pages on the social media sites like
You Tube to do self-reflection and feedback.
4-Intelligent mobiles to communicate , analyze and

evaluate to create and act with others.
5-CDs, film circles TV channels and video

conferences

6-School library and the city library to read books,

magazines
7-Story theater and storytelling classroom.
8-Classroom language journal
9-Blogs and Ning networks in the classroom.
10-Authentic environment relia and situations.
11-Transcripts, video and digital stories..
12-Create school Broadcast programs to start its

work in the morning queue and to deal with inside
the classroom in terms of analysis, evaluation,

creation, reflection and acting..
13-Visit museums and watch their video programs
in groups to be reviewed in classroom after return

to school.
14-Do interviews, debates and webinars with the

school visitors.
15-Visit the real fields of work (Factories, farms and

projects).
16-Learn for social change and explore through
school journeys.
17-Learn the pragmatics of complaining.
18-Robust Reasoning to find out, explore and

discover.
19-Abstracts from other journals.
20-Letters to researchers, scientists,Editors and

reviewers.
21-School wall magazines and school bulletin Boards
presenting their collaborative creation.
22-Texts, script, transcript,posters, advertisements,

magazines. local elections, school Union elections.

5-Methods of teaching:


01. Recognizing Fake News
Teach students to read past the headline, check the date and author
credentials, gauge the tone and language, and identify biases. It will

take more time, but ultimately it will save them time as they won't have
to double-check their sources or correct their views later on.
Always have them do a quick search for at least one other source that

states the same thing. Most news—especially if it's momentous—gets

coverage by more than one organization, so this should be a fairly

clear indication.
At least in theory, Twitter is a great resource since you can follow
multiple news channels and see how many sources are reporting the

same information, compare differently phrased headlines for the same
story, and easily navigate back and forth between full article and feed.
02. Using Multiple Sources
When trying to spot fake news the first thing a student should do is

check other sources for the same story. But this is about more than

truth in numbers: since different sources report different details in

varying levels of depth, students will gain a fuller, more accurate

perspective on an issue when they read, listen, or view more widely.
Have students create a poster or a mind map listing different kinds of
sources, including which ones are reliable and which ones aren't.

You can draw inspiration from this writer's Mind Map or design your

own from scratch.
3. Gauging Tone and Language
There is a difference between credible and non-credible language,

whether it's written or spoken. Teach students to develop an "ear" for it.
People are especially likely to believe what they read or hear when it's

couched in language that sounds flowery or academic.
This means we need to make students good writers and speakers

themselves, and to teach them as soon as possible that clear

communication—not fancy or abstract language—should be their

number one goal. That way, when a politician is blowing a bunch of hot
air into a camera, they'll be able to tell.-They use discussion

questions.
Have students read examples of different tones and re-create them in
writing exercises.
04. Questioning Numbers and Figures
Evaluating words often requires evaluating numbers too. Say you

come across an article that claims "Students perform better in school
when they get at least eight hours of sleep" and share it on Facebook,

but when you take a closer look at the cited study, you find that it was

only performed at one school, in one class, on six students. It's crucial
that we learn to judge the math behind the message.
Use info-graphics to illustrate how numbers can trick the mind into

buying the whole message, even if those numbers are skewed. Have

students create infographics and teach them to catch misleading facts
and figures. Then, hold a discussion on how false figures influence our
perception and lead us to believe some messages over others.
5. Understanding Images and the Brain
Visual media has an especially large impact on consumers. This is because there's a huge part of the brain devoted to visual processing. It's called the visual cortex, and it affects our attention, motivation, and even our emotions. Students need to understand just how powerful images can be in the media.
Today's images should be read on at least two levels, says J. Francis Davis, an adult educator and media education specialist: first, the immediate emotional level on which we react in a way that "taps our inner emotions or stories"; second, as products meant to influence us that way. Once you develop a knack for recognizing the latter, you can more easily control whether they influence you or not.
And it's important to do so. In her book Rise of the Image Culture, Elizabeth Thoman points out that images of perfect people leading perfect lives have "become a substitute for the search for meaning which other generations sought in more expansive and significant ways." Let's teach students to think for themselves again.
Have students create "powerful" but misleading messages on posters with mismatched images and text. See how many students believe the text, or buy the visual product, and discuss similar examples they may have seen online, on TV, in print, or on advertisements around town.
06. Developing Multimedia Skills
One important part of being media-savvy in the 21st century is knowing how to use different types of tools, both separately and together. We now have text, audio, video, augmented reality, and 3D printing. We have social media and interactive media.

We have books, newspapers, film, and TV. We have blogs and vlogs. Today's students need to be well versed in all of these in order to navigate the world ahead.
Considering the rapid pace of 21st century technology, we especially need to prepare students for types of media that don't exist yet. This means helping them become as comfortable as possible with the kinds of media that currently exist, since future technologies will be built off of them.
With Canva, students can effectively create their own websites with a unique URL. Have them practice putting presentations together and sharing them on social media channels. They can also embed videos and links to other web pages in their presentations.


07. Recognizing Bias
Teach students to recognize which channels might highlight which kinds of facts, emphasize certain kinds of contexts or angles, and use different tones. At the same time, teach them to recognize their own biases, which can influence their perceptions of the media as well. It goes both ways.
Biases can be political as well as personal. In an episode of National Public Radio's Fresh Air, journalist, fake news expert, and Buzzfeed media editor Chris Silverman reveals that the kind of news which performed best on Facebook during the Clinton-Trump election was fake news that confirmed biases viewers already had.

In other words, if someone posted a false news story smearing Hillary, it would be believed and shared most by viewers who already held negative perceptions of her.
Ask students to evaluate a few sources that exemplify these types of bias, then have them write a report on how to recognize bias in the media. Possible sources might include articles, blog posts, excerpts from books, speeches, podcasts, radio or TV programs, posters, ads and commercials, academic papers, YouTube videos, or short films.
08. Shaping the Media Ourselves
A free, open media is essential to a democratic society. Media education ensures that future generations will be able to think for themselves and not just be shaped by what they see and hear.
In a truly democratic society, people are going to butt heads and disagree, but these differences are honored by a "majority rules" mentality. On some level, this means that if the media is truly representative of the people it serves, then it should highlight the controversy, conflicts, and questions raised by its citizens. In this way, people can and should help shape the media.
For an assignment, have students create an entirely new set of laws around media use in society. Break everyone into groups and have them present their ideas to the rest of the class.
Method key questions:
Who created this? Was it a company? Was it an individual? (If so, who?) Was it a comedian? Was it an artist? Was it an anonymous source? Why do you think that?
Why did they make it? Was it to inform you of something that happened in the world (for example, a news story)? Was it to change your mind or behavior (an opinion essay or a how-to)? Was it to make you laugh (a funny meme)? Was it to get you to buy something (an ad)? Why do you think that?
Who is the message for? Is it for kids? Grown-ups? Girls? Boys? People who share a particular interest? Why do you think that?
What techniques are being used to make this message credible or believable? Does it have statistics from a reputable source? Does it contain quotes from a subject expert? Does it have an authoritative-sounding voice-over? Is there direct evidence of the assertions its making? Why do you think that?
What details were left out, and why? Is the information balanced with different views -- or does it present only one side? Do you need more information to fully understand the message? Why do you think that?
How did the message make you feel? Do you think others might feel the same way? Would everyone feel the same, or would certain people disagree with you? Why do you think that?


As kids become more aware of and exposed to news and current events, you can apply media-literacy steps to radio, TV, and online information.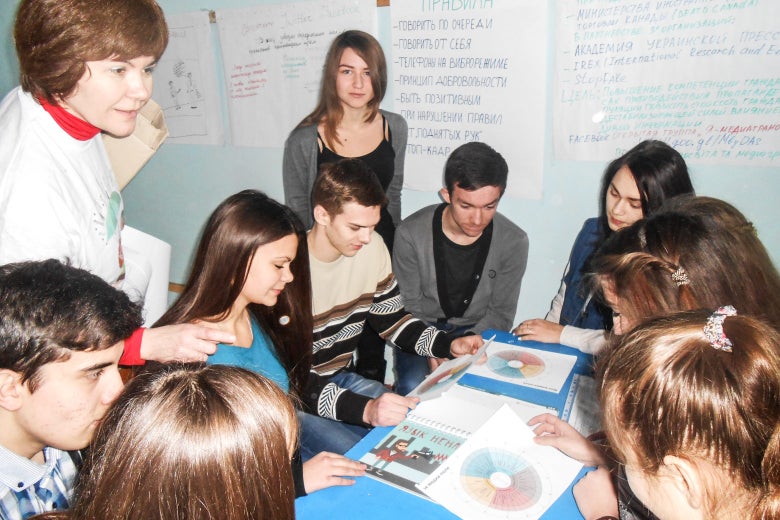 6-Curriculum Course Content

1. Logos
1-Teach students brand logos with this simple,

discussion-driven exercise.
Asking your students to share logos that pop into their heads, such as Long Live Egypt with the flag colors of Egypt. The next day, print and bring in the logos. Gather the class in a circle, holding each logo up one at a time. Ask open questions as you do so.

"How did you know this logo is "Long Live Egypt ?" "Would you still

recognize it if the colours were green, blue and purple instead of red,

white and black?" "How important is using the same colors?" You can

ask follow-up questions based on answers.

You may be surprised to see which logos resonate most with your

students.

Age: 1st to 3rd Grade
2. Describing Characters
Use visual media — such as a movie or television show — to help
young students learn about character traits.
A lesson you can use in language arts classes, tell each student to pay attention to a particular character before playing the show or movie. After it's done, pair students who focused on different characters together, Instruct each partner to describe three traits that his or her character demonstrated.

The other partner should ask "why?" if the description was vague, prompting an example that supports the characteristics. For example, if a student says "I think Jenny is smart," the partner should encourage more detail.

After, the class can work together to thoroughly describe each character.

Age: 2nd to 3rd Grade


3. Building a Cereal Brand
Bring in different cereal boxes to launch an activity that spans

across classes.
It starts by putting students into small groups, giving each its own cereal box. Group members must analyze it, noting attributes such as font size, style and placement as well as elements such as mascot use and facial expression. To smoothen this process, provide a sheet of questions to consider.
This initial exercise opens the door to range of activities. For example, students could watch a commercial for the cereal, analyzing it in a similar way. They could then script their own ad, recording it using school or personal devices.

Student creativity will shine, so don't be surprised if they ask to make ads in other classes.
Age: 3rd to 5th Grade
4. Dissecting Logos, Part II
Expand the first exercise on this list for older students by analyzing
logos more thoroughly.
A basic homework task launches this activity: Get students to identify and bring up to four pictures of logos to class. Start the lesson by having them identify each other's logos, starting a discussion about how a company would benefit from being easily-recognizable. You can even ask if they've ever bought something just because they knew the logo.

Allow students to find as many logos as they can across the classroom — including on apparel they're wearing. Then, work to make a chart that visualizes the popularity of the different logos.
Who knew a company's trademark picture makes for good lesson material?
Age: 3rd to 5th Grade


7-Media Literacy Activities
Implementing critical thinking skills:

1-Collaboration.
2-Communication.
3-Accessing to the means of media.
4-Critical thinking skills including:

5-Analysis and reasoning and Evaluation.
6-Creation and innovation.
7-Reflection and giving opinions and attitudes.
8-Acting or doing.


9-Evaluating Media Literacy Work
Within four areas, create questions based on the key concepts:
1-Media are constructions:
Does the student show an understanding of how the media product was created? (Few media products are made by a single author.

What were the different contributions of different creators to the final product?)
How well does the student
analyze
how the creators' beliefs or assumptions are reflected in the content?
2-Audiences negotiate meaning:
Does the student show an understanding of this concept, and of what
elements in a medium or a particular product would be relevant to it?

Can the student identify the intended audience of a media product,
as well as which other possible audiences might view it differently?
How well does the student identify and analyze the ways that
different audiences might view the media product differently?
3-Media have commercial implications:
Does the student show a knowledge and understanding

of the commercial factors influencing the creation of this

media product?

Does the student show a knowledge and understanding of
how the media product was financed and who owns it?
How well does the student analyze how the content of the media product was influenced either by commercial factors or by who
created and/or owned it?
4-Media have social and political implications:
Does the student show an understanding of this key concept? Does the student show a knowledge and understanding of how this medium communicates ideas and values? (For example, what kinds of characters are present and which kinds are absent? Who is shown in a positive light, and who is shown in a negative light? Who is shown as having control over their lives, and who is not?
How well does the student analyze the significance of the conscious or unconscious, explicit or implicit messages identified in a media product?
10-Learning Outcomes / Competencies:

( Output stage)
Learners achieved:
1-Perfect accessing to the short films, texts or scripts and doing
analysis, evaluation, creation, reflection and acting
2-Gaining Knowledge about advertisements, posters, investing

projects and reliable texts, scripts and commercial short films .
3-Excellent practice for reasoning, analyzing and evaluating.
4-Achieving Reflection, Self-expression, curiosity, share,exploration,

avoiding commercial fake media either on TV, Radio, internet, printed

books , social media, magazines, posters or commercial banking offers
or the offers of the candidates during elections.
5-
Acquiring Media literacy education habits of inquiry and skills of
expression needed to become critical thinkers, learners with effective

communications and active citizens in a world where mass media,

popular culture and digital technologies play an important role for

individuals and society.
6-Learners have become aware citizens of all what they hear, see,
read or face in media or in authentic daily-life situations.
7-Learners have become citizens of critical thinking, self-expression,

analysis, evaluation, creation and effective communication.
8-Learners have learnt values like honesty, honor, love, equality,
respect of other cultures, fighting cheating and fake commercial

9-Learners have learnt:

Effective use of technology
Understanding the world as a set of related systems

Responsible citizenship, democracy, freedom and self-expression

10--
Learners have learnt

co-operation, collaboration, creation, critical

thinking, exploration, discovery, truthfulness and credibility.